Desuperheater Series DS
Featured Product from Pick Heaters Inc.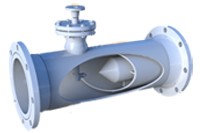 The water spray design of the Pick Heaters "Series DS" Desuperheater offers a simple, cost effective method of cooling steam to within 10°F of saturation.
The nozzle is positioned in the center and water is sprayed axially in the direction of the steam flow. The conical insert increases velocity while isolating it from thermal stress. Let Pick provide you with a Desuperheater or complete system to meet your needs.
Refineries
Power Generation
Chemical & Petrochemical
Pulp & Paper Mills
Why Choose a Pick Desuperheater?
Simple Design
No Moving Parts
Easy to Install & Service
Low Pressure Drop