Sanitary Heaters
Featured Product from Pick Heaters Inc.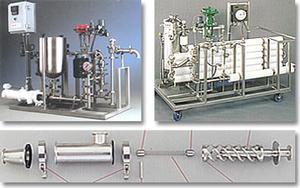 It can also handle slurries containing bite sized pieces such as salsas or stews…with piece integrity retained!
The Pick Sanitary Heater is the only Direct Steam Injection System that achieves set point temperature on demand with a non-shearing action. Forget the inherent process inefficiencies and maintenance headaches of traditional batch cooking.
Pick Direct Steam Injection allows you to heat in-line, with precise temperature control and 100% energy efficiency.
3A Certified
Pick Sanitary Heaters carry the 3A symbol.
The 3A symbol certifies the heater is in regulatory compliance for any food or dairy application. All product surfaces are 316L Stainless Steel with #4 sanitary polish. Tri-clamp® connections are standard, and other connections are available upon request. The entire unit disassembles in minutes for routine cleaning.