Steam Injection Industrial Liquid Heaters
Featured Product from Pick Heaters Inc.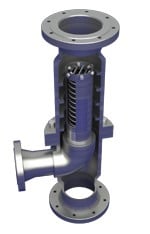 Throughout industry, wherever hot water is needed...for any purpose from cooking to sanitation...Pick Direct Steam Injection will meet your needs. Available in a size and configuration to meet your exact needs, Pick Heaters will deliver efficiency, reliability, simplicity and safety to any industrial facility with hot water needs.
All Pick Industrial Direct Steam Injection Heaters are approved in Canada, with CRN certification in all provinces. In addition, they are certified in the European Economic Community, CE 97/23 EC.