2A Fault Insertion Switch 34-Chan 4-Bus
Product Announcement from Pickering Interfaces US Inc.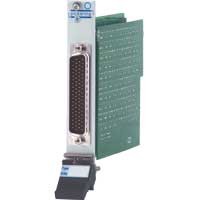 Pickering has expanded its range of PXI Fault Insertion solutions with the introduction of two new fault insertion switches. The 40-197 has 34 or 16 channels, 4 fault buses and 2A current handling. The 40-198 has 20 channels, 1 or 2 fault buses and 5A current handling.
Main Product Features
34 or 16 Fault Insertion Channels
4 Buses For Inserting Fault Conditions, Each With a Changeover Switch for Further Flexibility
Suitable For Automotive ECU Burn-In/Endurance Applications
High Density Low Cost Solution
Simulation of Various Types of Electrical Fault, Enabling Rigorous Fault Testing
2A Hot or Cold Switching
Switch up to 300Vdc/250Vac
VISA/IVI & Kernel Drivers Supplied for Windows 2000/XP/Vista
Supported by PXI or LXI Chassis
2 Year Warranty
About Pickering: Pickering offers the largest range of switching products available in PXI format - we have more models available than the rest of the industry put together. Modules vary from the world's highest density switching matrix available (the BRIC modules), RF and optical switching products through to simple resistor switching networks for automotive applications.
---