40-592 Fault Insertion BRIC
Product Announcement from Pickering Interfaces US Inc.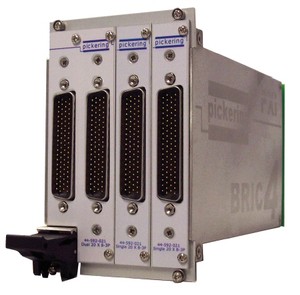 The 40-592 FIBO (Fault Insertion Break-Out) Matrix Module is a large-scale high density switching matrix based on the Pickering BRIC™ format. The fault insertion BRIC's are designed for applications requiring the simulation of a variety of faults in complex, high pin count, applications involving sensors and control units. Typical faults that can be simulated are open-circuits, short-circuits to ground or battery, or short-circuits between input/output lines. Typical applications are in automotive and aerospace industries which involve safety or mission critical systems that have to behave predictably when cabling or sensor faults occur.
Fault insertion techniques are used in applications where the response of a controller needs to be assessed when one or more sensors are providing poor quality information. The controller needs to be tested to ensure that is does not produce an inappropriate response, such as turning an engine or braking system off, and consequently risking a serious system failure. Testing in aeronautic, aerospace and automotive environments have to be particularly rigorously performed to ensure that expensive failures or loss of life do not occur.
The 40-592 allows such testing to be automated, replacing manual test systems that are hard to repeat and document. The 40-592 is typically used with a sensor emulation connected to breakout 1.2 or 1.3 and connected to the controller under test through 1.1. The connection can be broken and a fault can be placed by connecting the line to a fault condition, such as a short circuit, on the Y axis. The third breakout connection can be used to be connected to a poor sensor emulation, allowing the controller to be tested with more complex sensor faults present.
The 40-592 allows up 8 types of fault to be connected to the Y axis. Versions supplied with three pin breakout connections can support 160 sensor lines while versions that use a two pin breakout connection can support 248 sensors. Modules can be supplied not fully loaded for applications that do not require the full complement of daughter cards.
The 40-592 is constructed with long service life ruthenium reed relays that provide excellent performance switching at both low signal levels and at their rated current of over 1 Amp.
Main Product Features:
Integrated PXI Matrix Module With Built In High Performance Screened 8-Channel Analog Bus
2 or 3-Pin Breakout Configurations For Fault Simulation and Specialist Test Applications
Very high Density With a 248x8 Matrix in an 8-slot Module (including 2-Pin Breakout)
Load Just The Number of Daughter Switch Cards You Need For Your Application
Uses High Reliability Ruthenium Reed Relays for Maximum Performance
Switches up to 150Volts, 1A, 20W
Drivers Supplied for Windows 98/2000/NT/XP
2 Year Warranty
About Pickering Interfaces:
Pickering Interfaces is a market innovator in signal switching and conditioning for a broad range of applications and architectures. With the largest range of switching cards in the industry, Pickering Interfaces has provided solutions to both commercial and military applications. In addition, Pickering's range of instrumentation provides innovative test solutions to users and integrators of modular test systems.
Please click on the links to the right for more information or contact Pickering Interfaces today!
---