High Density Flexible 2A BRIC Matrix
Product Announcement from Pickering Interfaces US Inc.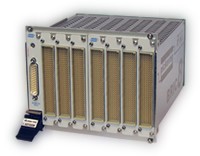 The 40-566 PXI Matrix BRIC provides a range of high density matrix configurations able to switch up to 2A or 250V AC/220V DC. The 40-566 BRIC modules are available in 4 or 8 slot PXI sizes and are constructed using high quality electro-mechanical relays. Typical applications include signal routing for Functional ATE systems. With this high level of switching density, 40-566 PXI matrix modules allow a complete Functional ATE switching system to be housed in a single 3U PXI chassis. BRIC Modules allow the use of a much lower cost 8 slot PXI chassis.
Main product Features
Integrated PXI 2A Matrix Module With Built In High Performance Screened Analog Bus
Fully Scalable Matrix Solution
High Density With 4-Slot Configurations to 165x4 (2-Pole) & 8-Slot Configurations to 385x4 (2-Pole)
Flexible Matrix Architecture Through Isolation Switching Enabling Multiple Independent Matrices (Up to 7 Per BRIC8)
Partially Populated Versions Available
2-Pole Switching up to 250V AC/2A/60W
VISA, Kernel & IVI Drivers Supplied
2 Year Warranty
Please click on the links to the right for more information or contact Pickering Interfaces today!
About Pickering Interfaces:
Pickering Interfaces is an United Kingdom based company manufacturing advanced switching and instrumentation equipment for the electronics industry.

Pickerings products are used worldwide in applications such as automotive, aerospace and defence. Our test & instrumentation products are used in everything from mobile phone handsets to the space shuttle, weapons systems to television sets.
Pickering Interfaces is a privately owned company who employ almost 100 people and have offices in five countries directly involved in software and hardware production, as well as sales agents operating in over twenty more.
---