High Performance RF Switch Family
Product Announcement from Pickering Interfaces US Inc.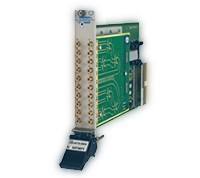 The 40-870 is a 50 Ohm RF Switch available with 3 or 6 separate SPDT relays in a single PXI slot. Both versions exhibit low insertion loss and VSWR through the use of modern RF relay technology at an affordable cost. The switch banks been carefully designed to ensure excellent and repeatable RF characteristics to frequencies of 3GHz. The injection of noise and unwanted signals into the signal paths of the 40-870 has been minimized by careful attention to the mechanical and electrical design.
Main product Features
3GHz RF Single Pole Changeover Switch
Triple and Hex Versions
SMB or MCX Connector Versions
High Performance, Low Cost
VISA, IVI and Kernel Drivers
Supported in PXI or LXI Chassis
2 Year Warranty
Please click on the links to the right for more information or contact Pickering Interfaces today!
About Pickering Interfaces:
Pickering Interfaces is an United Kingdom based company manufacturing advanced switching and instrumentation equipment for the electronics industry.

Pickerings products are used worldwide in applications such as automotive, aerospace and defence. Our test & instrumentation products are used in everything from mobile phone handsets to the space shuttle, weapons systems to television sets.
Pickering Interfaces is a privately owned company who employ almost 100 people and have offices in five countries directly involved in software and hardware production, as well as sales agents operating in over twenty more.
---