Low Cost Fault Insertion Switch Family
Product Announcement from Pickering Interfaces US Inc.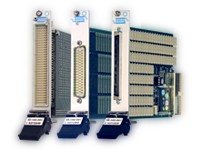 The 40-190, 40-195 & 40-196 represent the start of a family of Pickering low cost simple fault insertion switch solutions. They have been designed to assist fault simulation in automotive & avionics ECU burn-in/endurance test applications, involving the reliability testing of safety critical controllers.
The 40-190 is a 64 Channel Fault Insertion switch, primarily designed for the simulation of fault conditions in automotive applications involving the reliability testing of safety critical controllers. It is designed to be able to insert 3 different fault conditions between the test fixture and the equipment under test: Open-Circuit, Short-Circuit between UUT connections, Short-Circuit to other fault conditions such as POW/IGN/GND via Fault Insertion Bus. Through relays on each channel enable signals to the UUT to be held open-circuit. Fault Insertion Buses allow any channel to be shorted to any other channel and also enable any channel to be connected to an external fault condition. The module is available with either 1 fault bus (40-190-001) or 2 fault buses (40-190-002). A 4 channel multiplexer on each bus allows an external signal level such as Power, Ignition or Ground to be selected as the fault condition.
Main product Features:

64 Fault Insertion Channels
Suitable For Automotive ECU Burn-in/Endurance Test Applications
High Density Low Cost Solution
Simulation of Various Types of Electrical Fault, Enabling Rigorous Fault Testing
Choice of 1 or 2 Fault Insertion Buses
Fault Bus MUX For Selecting External Fault Conditions
2A Hot or Cold Switching
Switch up to 150 Volts DC With 60W Max Power
VISA and Kernel Drivers
2 Year Warranty
Please click on the links to the right for more information or contact Pickering Interfaces today!
About Pickering Interfaces:
Pickering Interfaces is an United Kingdom based company manufacturing advanced switching and instrumentation equipment for the electronics industry.

Pickerings products are used worldwide in applications such as automotive, aerospace and defense. Our test & instrumentation products are used in everything from mobile phone handsets to the space shuttle, weapons systems to television sets.
Pickering Interfaces is a privately owned company who employ almost 100 people and have offices in five countries directly involved in software and hardware production, as well as sales agents operating in over twenty more.
---