Parts & Assemblies Service... to your specs
Service Detail from Pickwick Manufacturing Services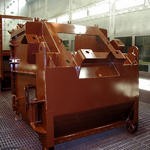 Pickwick Manufacturing Services takes care of all on-site finishing of manufactured parts and assemblies, including:
· Sand/shot blasting
· Polishing - pharmaceutical/sanitary stainless steel to a #4 finish
· Painting - powder painting and wet spray systems for small to large parts.
Take advantage of custom metal manufacturing, from start to finish. Pickwick's painting capabilities include powder coating parts up to 60x60x80 inches with heated phosphate cleaning and a convection bake oven. Our batch wet spray paint booth accommodates parts to 12x25x12 feet with assisted drying. And, finally, a truck drive-in booth fits 40x50x22 foot assemblies, with overhead crane access.
Read more about Pickwick's finishing capabilities on our website.
---