Micrometer Screw Drive: MICI 200
Product Announcement from Piezosystem Jena, Inc.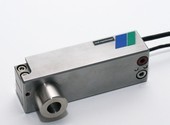 motion up to 250 µm
high resonant frequency
high precision adjustment of linear positioner
motion without mechanical play
precise adjustment of heavy loads
MICI 80 and MICI 200 are compatible with series 152
micrometer drives from "Mitutoyo"
applications:
improvement of resolution of linear stages
quality control
automation
fine adjustment of optical components
microassembly
The MICI 200 is based on a high load piezo actuating system with a lever transmission which allows for a range of motion of up to 250 microns in open loop mode. If the MICI is combined with a micrometer screw, this unit can be mounted onto a linear stage. Pre-adjustment is done by the measuring screw and the final fine adjustment is made by the MICI element. Through this, the accuracy and reproducibility of the linear stage system can be improved significantly. The achievable resolution is down to the sub-nm range. The major advantage of the MICI 200 system is that it can be easily installed into an existing system, upgrading it to achieve sub-nm resolution.
---