New Lens Flex-Adapter for MIPOS series:
Product Announcement from Piezosystem Jena, Inc.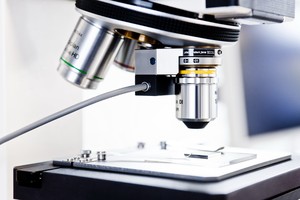 The new Lens Flex-Adapter makes it possible to combine objectives and microscopes from different manufacturers with ease.
The Lens Flex-Adapter mechanism makes the interchange of objectives both simple and accurate due to the use of an exchangeable thread adapter in sizes ranging from W0.8 x 1/3" up to M32 x 0.75. Its innovative design avoids extra forces while the objectives are being changed by not allowing the material to merge. Lens Flex Adapters are available individually as well as a set of six thread type adapters for the the combination of different microscopes and objectives.
The MIPOS series actuators were developed for the fine adjustment of micro objective lenses. They provide a wide range of motion from 20 µm up to 500 µm. Their position accuracy and resolution are extraordinarily high. The MIPOS is the perfect upgrade for modern microscopes.
Key Features:
Focus range up to 500 µm - 400um in closed loop
Easy assembling and disassembling due to the Flex-Adapter mechanism
Available Lens Flex Adapter - thread types: W0.8x1/36" (RMS), M25x0.75, M26x0.75, M26x1/36", M27x0.75, M32x0.75
Parfocal Spacer Rings for tube extension
Compatible with both standard and inverted microscopes
For more information on the MIPOS series, please visit http://www.piezosystem.com/products_services or email info@piezojena.com
---