PU 100 CAP
Product Announcement from Piezosystem Jena, Inc.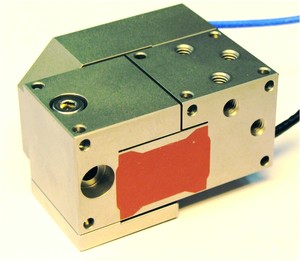 The precise leveling of a platform or wafer chuck is an essential element to accomplish when reaching for the best results for probe alignment in the semiconductor industry and in the fields of optics and laser technology. Key points that distinguish the quality of the unit are its capability to move high loads with high precision and of course its speed. These characteristics mean that the dynamic behavior during positioning can be improved significantly.
Based on these requirements, piezosystem jena, a specialist in high-precision positioning in the micro- and nanometer range, presents a special piezo driven positioning solution. The PU 100 CAP piezoelectric actuator series was designed to provide motion in an 80 μm travel range and to support loads of up to 50 pounds.
However, the main issue and key factor is the speed of the positioning. With the PU 100 CAP new positions and position readjustments can be implemented within a few milliseconds.
Control signals, generated by external positioning sensor systems, which determine the location and the position of the moved parts, are converted by the electronic piezo controller immediately in a high-precision position correction. The leveling is in fact due to the sophisticated piezo controller technology that practically happens in real time.
The high and nearly unlimited resolution of the PU 100 CAP piezoelectric actuator provides an enormous advantage. In fact, even the smallest changes can be re-leveled precisely. Position corrections that may be required due to thermal or vibration-dependent effects can be done with the highest resolution and repeatability available.

The PU 100 piezo actuators series uses piezoelectric actuators which are completely free from wear and, thanks to the solid flexure guidance system, also completely free of mechanical play. This also guarantees a high level of reliability. The PU 100 series can be easily integrated into vacuum and clean room technology.
Product Highlights:
high load capability
real time adjustment
travel range up to 80 µm
each system has the capability in the high load version to move a load of up to 50 pounds
3 systems, mounted on a circle with 120° to each other, are ideally suited for wafer chuck movement
robust and flexible use is a key feature of the PU series
---