Pittman Motors Announces New Website
Product Announcement from Pittman Motors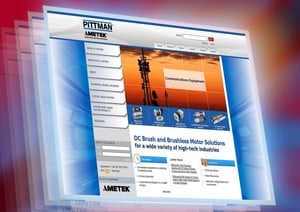 HARLEYSVILLE, PA - Pittman Motors, a premier manufacturer of customized DC brush motors, brushless motors, and gearmotors, has launched a new website: www.Pittman-Motors.com. The web site has a new look and feel as well as enhanced features such as tabbed navigation and access to online ordering for immediate availability of a standard selection of parts.
The "buy online" feature is accessible from the home page and allows the customer to order a wide range of standard off-the-shelf products for same day shipping if ordered before 2:00pm US Eastern Time. This feature is perfect for a designer or engineer wanting to quickly prototype a concept, while deciding what customized features will be necessary for the final subassembly or system design. A wide selection of brush DC motors and gearmotors are currently available.
The website also allows a visitor to download CAD models for virtual prototyping. The CAD files can be directly imported into a wide range of 3-D modeling software. For general technical information, a Resources tab accessible directly from the home page links to a list of downloadable technical articles, white papers, and the Pittman motor catalog.
The Pittman motor line spans a wide variety of DC motor sizes and technologies, ranging from tiny brushless slotless DC motors used in high-speed medical applications to larger NEMA frame DC servo motors used in sophisticated automation equipment. Motors can be customized to meet just about any engineering need. Options include unique shaft configurations, various bearing systems, output devices such as pinions and gears, special leadwire assemblies, EMI/RFI suppression networks, optimized motor windings, permanent magnet options, and various brush materials. More information is available at www.Pittman-Motors.com.
About Pittman
Pittman is part of the AMETEK Precision Motion Control division. Its products are designed into a wide variety of high-tech motion applications, including lab automation, medical devices, communications equipment, semiconductor processing equipment, aerospace systems, and many other applications where precision motion is critical. The Pittman motor line includes a wide variety of DC motor sizes and technologies, ranging from 12mm diameter brushless slotless DC motors used in high-speed medical applications to large NEMA frame dc servo motors used in sophisticated automation equipment. Pittman also offers a wide variety of complementary products such as gearboxes, encoders, brakes, and drive systems. For more information, visit
---