Auto-Lock Safety Pull Pins
Featured Product from Pivot Point, Inc.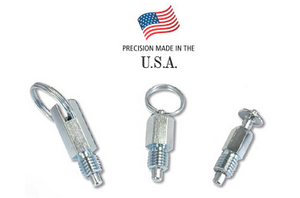 Pivot Point's new Extended Locking Pull Pin features a retractable tip that locks into an extended (forward) position automatically. Conventional spring-loaded pull pins do not lock forward, allowing unintended retraction and disengagement due to vibration, movement and irregular mating holes.
Our new forward-locked design means that the tip remains in an extended, locked position until manually disengaged by pulling the ring.