PlasmaCAM Cutting System
Product Announcement from PlasmaCAM, Inc.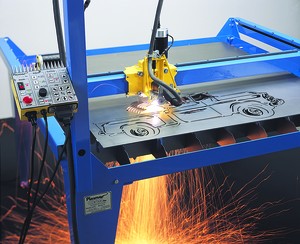 With the fine cut quality of the plasma torch and the precision of a CNC system you can produce metal parts to your exact standards.
· Need a custom part for that dune buggy or street rod you're building? the PlasmaCAM system can cut just about any automotive metal part including clasps, brackets, flanges, shims and mounts.
· Need a prototype for a new invention? The PlasmaCAM is great for helping you create your new pieces in a short amount of time.
· Want to fix that broken bucket on your backhoe? Fabricate a strong new piece in just a couple minutes with little cost.
· Have a tricky bend in HVAC ductwork? The PlasmaCAM -paired with our HVAC software- can easily take the dimensions, flatten the image and cut the sheet metal.
Not only can you cut single custom parts, the PlasmaCam can mass-produce parts. The PlasmaCAM software can import, copy and nest parts making it easy to mass- manufacture your metal pieces quickly and affordably.
---