Process controls for the Semiconductor Industry
Featured Product from Plast-O-Matic Valves, Inc.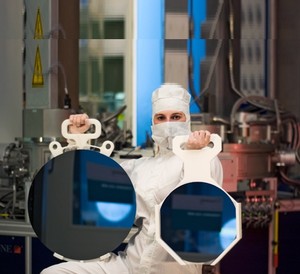 Semiconductor
Moore's Law: The productivity miracle that has kept the number of transistors on a chip doubling every two years or so.
Gordon Moore's law continues to drive semiconductor innovation. Integrated circuits (IC) are so small, in physical terms, that individual particles of matter play major roles. The smaller an electronic system can be made, the more processing power can fit into a given physical volume, the less energy is required to run it, and the faster it can work.
The result is that companies that used to control the entire production process, from design to manufacture, now delegate more and more production to others in the industry. Specifically foundry companies, which allow semiconductor companies to design and market while eliminating the overhead associated with manufacturing. Additionally, specialized designers, packaging and testing companies provide an even more efficiencies that make Moore's law more relevant than ever.
Plast-O-Matic Valves. Inc. designs innovative process controls that lead the industry in cleanliness and functionality to meet these ever changing demands.
For an introduction to the valves and valve materials used in semiconductor DI water processes, please click here.
Ultrapure Regulators/Full Shutoff with Kalrez Perfluoroelastomers
Series UPRS Downstream pressure reducing valve features full shutoff design (pressure will not equalize in a no-flow condition) and the ultimate purity levels, as verified by independent test labs. BCF spigots standard; flare, sanitary, and other connection types available. 20 – 63mm sizes; Kynar 740 body. High purity CDB-16 (8 hour hot / 8 hour cold DI rinse) procedure is standard; clean and double bag in class 100 (ISO 5) clean room. Ultimate purity with excellent flow performance; set pressure range 10-100 PSI. Available with or without isolated pressure gauge.
Follow us on:
Watch>>>Introducing Plast-O-Matic Valves
Plast-O-Matic Valves, Inc.
When it comes to thermoplastic valves and controls, we are the problem solvers.
Founded in 1967, Plast-O-Matic Valves' ongoing mission is to provide unparalleled customer satisfaction while continually advancing the technology of liquid pressure and flow control. As the quality leader in the development of thermoplastic valves and controls for corrosive and ultra-pure liquids, POM provides a complete line of standard and custom designed solutions for difficult applications. The company is committed to product innovation, engineering excellence, precision manufacturing, 100% quality testing, and hands-on technical assistance. ISO 9001:2015 Registered.
Training & Seminars
Self-Training Powerpoints