Address your process and chemical handling needs.
Featured Product from Plast-O-Matic Valves, Inc.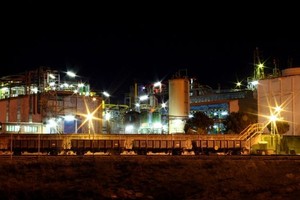 Miscellaneous Process Controls & Pumps
Calibration Columns verify pump flow rates for precise chemical dosing.
Constant Flow Valves provide pre-set constant downstream flow rate.
Air Operated Filling/Metering Pumps for precise filling, dosing, dispensing of ultrapure liquids and corrosive chemicals.
Process Cooling Sticks supply or return side assemblies simplify piping and provide superior strength.
Pulsation Dampeners/Surge Suppressors water hammer arrest and pump pulsation dampeners improve performance and safeguard against system damage.
Chemical Processing
Today's Chemical Industry faces mounting pressure from the EPA, OSHA and other domestic governmental and global regulatory agency's than ever before. By leveraging Plast-O-Matic Valves technology, companies can manage their risk mitigation and increase their return on investment to meet some of their toughest flow system challenges. Faced with applying on/off or 4-20 mA or electric pneumatic positioning, precise pressure regulation or back pressure/by-pass, among many others, Plast-O-Matic Valves provides mission critical liquid handling and dosing.
We offer an extensive array of process controls to help you address your process and chemical handling needs. Plast-O-Matic Valves, Inc. provides innovative products and technologies, technical expertise and customer support services for municipal water and wastewater treatment customers.
Plast-O-Matic Valves, Inc.
Plastic Valves and Controls Quality Engineered for Corrosive and Ultra-Pure Liquids. Solving pressure & flow control problems for a variety of applications.
Founded in 1967, Plast-O-Matic Valves strives to continually advance the technology of liquid pressure and flow control. As the quality leader in the development of plastic valves and controls for corrosive and ultra-pure liquids, Plast-O-Matic provides a complete line of standard and custom designed solutions for difficult applications. They are committed to product innovation, engineering excellence, precision manufacturing, 100% quality testing, and hands-on technical assistance.
D.I. (deionized) & reverse-osmosis water
Potable water & wastewater treatment including sodium hypochlorite (bleach), sodium hydroxide, flouride, sewage
Chemical processes including sodium hypochlorite, nitric acid, hydrochloric acid, phosphoric acid, sulfuric acid, solvents, chlorine, hydrogen peroxide, ethylene glycol, seawater, detergents, brine, oil, flouride, ferric chloride, sodium bisulfate, ferric sulfate, calcium chloride
Plastic valves and actuators designed for semiconductor fabrication, pharmaceutical processes, dialysis (sodium bicarbonate), battery filling, chemical injection, metal finishing, food & beverage, printed circuit board fabrication...virtually any demanding liquid process
For valve selection and quotation, Plast-O-Matic Valves, Inc. is pleased to introduce SPEC POM VALVES, a specification guide designed to assist you in specifying the proper valve for your application.
Leadership Though Innovative Products, Engineering Excellence and Dependable Performance!