HIGH CYCLE LIFE AIR-OPERATED PINCH VALVE
Featured Product from Plast-O-Matic Valves, Inc.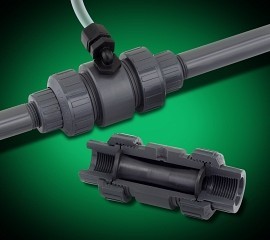 Air Operated Pinch Valves
Series HSA Air-operated pinch valve designed for corrosive slurries; long-life EPDMh2 sleeve with a variety of pipe sizes and connection materials.
FEATURES
Breakthrough variable thickness sleeve design eliminates twisting and tearing of the pinch element.
EPDM Sleeve tested to over 1,000,000 cycles in laboratory conditions.
Sleeve design is ideal for slurries, chemicals, and high purity applications.
High flow rate and bubble tight shutoff: A highperformance, clean and affordable alternative to airoperated diaphragm valve and ball valves.
True union connections for easy installation and maintenance.
No metal parts; safe for corrosive environments.

SPECIFICATIONS
Body Materials: Polypro (non-wetted)
Wetted Materials: PVC, CPVC, PP or PVDF; EPDMh2
Full port design
The What, How, Where and Why of Relief Valves
Watch>>>Introducing Plast-O-Matic Valves
Plast-O-Matic Valves, Inc.
When it comes to thermoplastic valves and controls, we are the problem solvers.
Founded in 1967, Plast-O-Matic Valves' ongoing mission is to provide unparalleled customer satisfaction while continually advancing the technology of liquid pressure and flow control. As the quality leader in the development of thermoplastic valves and controls for corrosive and ultra-pure liquids, POM provides a complete line of standard and custom designed solutions for difficult applications. The company is committed to product innovation, engineering excellence, precision manufacturing, 100% quality testing, and hands-on technical assistance. ISO 9001:2015 Registered.
Training & Seminars
Self-Training Powerpoints