High PerformanceThermoplastic Pressure Regulator
Featured Product from Plast-O-Matic Valves, Inc.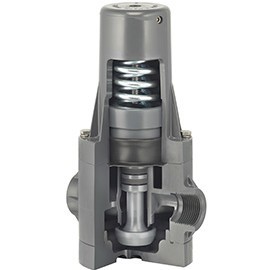 High Performance 1/2" Pressure Regulator
Series PRHM
Our most popular 1/2" regulator...designed for high flow with pressure settings 5 to 125 psi...decades of proven performance
Features: Series PRHM is a 1/2" molded version of Series PR/PRH with high flow capacity, minimal drop off from set pressure, and no external metal fasteners. Design incorporates a poppet seat, double u-cups, large area rolling diaphragm and one piece body construction. A pressure balanced shaft assures smooth and stable control, while the valve design provides excellent flow performance.
• Pressure setting is infinitely adjustable from 5 psi to 125 psi.
• Maximum inlet pressure is 150 psi.
• Available in 1/2" Geon PVC, Corzan CPVC, Natural Polypropylene*, or Kynar PVDF.
• Seals in EPDM or FKM.
• No external fasteners; ideal for nasty environments.
• High performance, heavy-duty design.
• Designed for low maintenance and easy to adjust.
For 3/4" & 1" sizes, please click here.
Corrosion resistant, also excellent for high purity and water applications. The standard connections are female NPT threaded ports. Socket, flanged and spigot connections are also available. Springs (not wetted) are stainless steel.
Helpful Links:
Backpressure Valves
The pressure regulators described above are used to control downstream pressure. If you actually need to control pressure upstream, or "backpressure," please click on this link.
5 Most Common Mistakes When Specifying Valves
Valve Pressure Loss & Flow - Q&A and Equations
(Explains Cv and Delta P, how to better specify valves, etc.)
Stay connected with the latest company news from Twitter and Instagram, right here, right now!
Watch>>>Plastomatic Corp Overview
Plast-O-Matic Valves, Inc: As the quality leader in the development of plastic valves and controls for corrosive and ultra-pure liquids, Plast-O-Matic provides a complete line of standard and custom designed solutions for difficult applications. Since 1967 we have been committed to product innovation, engineering excellence, precision manufacturing, 100% quality testing, and hands-on technical assistance.
Leadership Though Innovative Products, Engineering Excellence and Dependable Performance!
Training & Seminars
Self-Training Powerpoints
For valve selection and quotation, Plast-O-Matic Valves, Inc. is pleased to introduce SPEC POM VALVES, a specification guide designed to assist you in specifying the proper valve for your application.