PREVENT FUGITIVE EMISSION LEAKS
Featured Product from Plast-O-Matic Valves, Inc.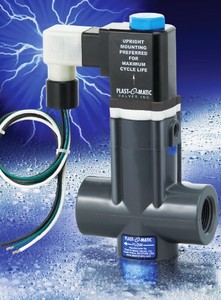 SERIES EASMT/EASYMT PTFE BELLOWS SOLENOID VALVE PREVENTS FUGITIVE EMISSION LEAKS ONE VALVE HANDLES ALL TYPE SOLUTIONS!
Direct Acting, Normally-Closed PTFE Bellows Seal Solenoid Valves Series EASMT/EASYMT
True Blue® Solenoid Valves Series EASMT & EASYMT for pressure, drain, and vacuum service; designed for all types of aggressive chemicals, salt solutions, acids, caustics, and ultrapure liquids such as deionized water.
*NOW INCLUDES W24 Fully Rectified Coil with Z-Cool DIN • Uses 75% Less Energy
Rectified R24 Coil Optional
Features:
Sizes: 1/4″, 1/2″, 3/4″ & 1″
Body Materials: Geon PVC, Corzan CPVC, Natural Polypro, Kynar PVDF
Seal Materials: FKM, EPDM
1,000,000+ cycles tested under laboratory conditions; some applications report over 2,000,000 cycles in field use. Your results may vary.
No metal parts in wetted area — Optional Xylan coated springs and fasteners available; consult factory.
Rugged molded construction.
Patented Fail-Dry® vented design.
Resistant to atmospheric corrosion.
PTFE bellows design eliminates the problems often encountered with highly aggressive chemicals, also eliminates the need to have multiple types of valves on hand.
Molded corrosion-resistant coil assembly.
W24 Coil with "COOL" DIN Connector is now standard; uses 75% less energy than previous design. R24 Coil is optional and ideal for applications that are energized less frequently. Both coils are rated for continuous duty.
IP-65 rated enclosure; CE Marked.
All valves are individually inspected and 100% tested.
Standard coil connector light indicates when valve is energized.
Supersedes Series EASM, EASYM, EASMD & EASYMD.
Watch>>>Introducing Plast-O-Matic Valves
Plast-O-Matic Valves, Inc.
When it comes to thermoplastic valves and controls, we are the problem solvers.
Founded in 1967, Plast-O-Matic Valves' ongoing mission is to provide unparalleled customer satisfaction while continually advancing the technology of liquid pressure and flow control. As the quality leader in the development of thermoplastic valves and controls for corrosive and ultra-pure liquids, POM provides a complete line of standard and custom designed solutions for difficult applications. The company is committed to product innovation, engineering excellence, precision manufacturing, 100% quality testing, and hands-on technical assistance. ISO 9001:2015 Registered.
Training & Seminars
Self-Training Powerpoints