PTFE bellows solenoid valves for Metal Finishing
Featured Product from Plast-O-Matic Valves, Inc.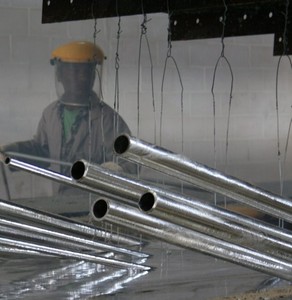 Metal Finishing
Many industries use metal finishing in their manufacturing processes, including:
automotive
electronics
aerospace
hardware
jewelry
heavy equipment
appliances
tire manufacturing
telecommunications
Without finishing, products made from metals would last only a fraction of their present lifespan because of corrosion and wear.
Finishing is also used to enhance electrical properties, to form and shape components, and to enhance the bonding of adhesives or organic coatings. Sometimes the finishes are used to meet consumer demand for a decorative appearance.
Electrolytic plating, electroless plating, chemical conversion and electrochemical conversion processes are typically used in the industry. Typical support processes include degreasing, cleaning, pickling, etching, and/or polishing.
Plast-O-Matic Valves provides the knowhow for handling the corrosive, caustic, and other difficult materials used in metal finishing. Our most popular offerings for this industry include PTFE bellows solenoid valves and by-pass relief valves designed for 2 million cycles.
These rugged valves provide the durability and chemical compatibility needed when controlling solvents and surfactants for cleaning, acids and bases for etching, and solutions of metal salts for plating the finish onto the substrates.
Watch>>>Plastomatic Corp Overview
Plast-O-Matic Valves, Inc: As the quality leader in the development of plastic valves and controls for corrosive and ultra-pure liquids, Plast-O-Matic provides a complete line of standard and custom designed solutions for difficult applications. Since 1967 we have been committed to product innovation, engineering excellence, precision manufacturing, 100% quality testing, and hands-on technical assistance.
Leadership Though Innovative Products, Engineering Excellence and Dependable Performance!
Training & Seminars
Self-Training Powerpoints
For valve selection and quotation, Plast-O-Matic Valves, Inc. is pleased to introduce SPEC POM VALVES, a specification guide designed to assist you in specifying the proper valve for your application.