Plast-O-Matic differential pressure indicators
Featured Product from Plast-O-Matic Valves, Inc.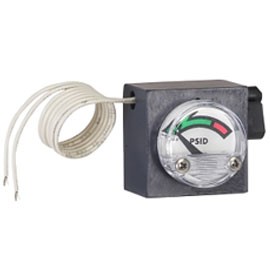 NEW Industrial Thermoplastic Differential Pressure Gauges and Variable Area Flowmeters
The new differential pressure gauges are constructed of PVC or CPVC and are designed for corrosive or pure liquid applications where instant visual confirmation of pressure differential is required, such as filters or points of use. Series DPG is offered with 0-15 or 0-30 PSID ranges, with optional switches to initiate alarms or controls. The gauge is accurate to within ±2% FS. A compact unit, Series DPI, is designed for OEM applications or applications where indication alone is sufficient.
A complementary line of variable area flow indicators is also offered in PVC or CPVC. Series FIG indicates liquid flow rates from low flows of 0-1 GPM, even when used at high line pressures. Flow gauge sensors can be supplied with switches or relays to initiate alarms, activate other equipment, or shut the system down. When high and low limits are desired, two switches may be used.
Each of the differential instruments are designed with rugged thermoplastic construction and no wetted metal parts. They feature isolated, non-wetted magnetic sensors. The entire differential pressure and variable area flow gauge line is made in the USA and comes with a three year guarantee. For complete details please click here.
Stay connected with the latest company news from Twitter and Instagram, right here, right now!
Watch>>>Plastomatic Corp Overview
Plast-O-Matic Valves, Inc: As the quality leader in the development of plastic valves and controls for corrosive and ultra-pure liquids, Plast-O-Matic provides a complete line of standard and custom designed solutions for difficult applications. Since 1967 we have been committed to product innovation, engineering excellence, precision manufacturing, 100% quality testing, and hands-on technical assistance.
Leadership Though Innovative Products, Engineering Excellence and Dependable Performance!
Training & Seminars
Self-Training Powerpoints
For valve selection and quotation, Plast-O-Matic Valves, Inc. is pleased to introduce SPEC POM VALVES, a specification guide designed to assist you in specifying the proper valve for your application.