Valve Visually Verifies Ozone Efficiency
Featured Product from Plast-O-Matic Valves, Inc.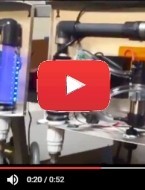 Stay connected with the latest company news from Twitter and Instagram, right here, right now!
Plast-O-Matic continuous, automatic degassing valve now available with clear acrylic body for easy visual verification. This one minute video demonstration shows ozone generation system with continuous outgassing, alleviated by the Series DGV Degassing Valve.
Watch>>>Introducing Plast-O-Matic Valves
Plast-O-Matic Valves, Inc.
Plastic Valves and Controls Quality Engineered for Corrosive and Ultra-Pure Liquids. Solving pressure & flow control problems for a variety of applications.
Founded in 1967, Plast-O-Matic Valves strives to continually advance the technology of liquid pressure and flow control. As the quality leader in the development of plastic valves and controls for corrosive and ultra-pure liquids, Plast-O-Matic provides a complete line of standard and custom designed solutions for difficult applications. They are committed to product innovation, engineering excellence, precision manufacturing, 100% quality testing, and hands-on technical assistance.
D.I. (deionized) & reverse-osmosis water
Potable water & wastewater treatment including sodium hypochlorite (bleach), sodium hydroxide, flouride, sewage
Chemical processes including sodium hypochlorite, nitric acid, hydrochloric acid, phosphoric acid, sulfuric acid, solvents, chlorine, hydrogen peroxide, ethylene glycol, seawater, detergents, brine, oil, flouride, ferric chloride, sodium bisulfate, ferric sulfate, calcium chloride
Plastic valves and actuators designed for semiconductor fabrication, pharmaceutical processes, dialysis (sodium bicarbonate), battery filling, chemical injection, metal finishing, food & beverage, printed circuit board fabrication...virtually any demanding liquid process
For valve selection and quotation, Plast-O-Matic Valves, Inc. is pleased to introduce SPEC POM VALVES, a specification guide designed to assist you in specifying the proper valve for your application.
Leadership Though Innovative Products, Engineering Excellence and Dependable Performance!