Custom Packaging Design Services
Service Detail from Plastic Forming Company, Inc. (The)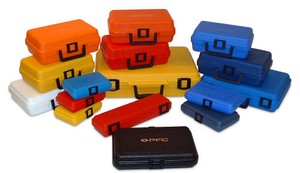 The Plastic Forming Company (PFC) offers free of charge part design services whether you are looking for cut foam, custom interior or a complete custom case. They can work from CAD files, part drawings or your actual parts. While consulting with one of their sales staff let them know of any preferences you have and they will formulate your design around those ideas. PFC's most economical designs are based on their proprietary line of modular exteriors. This means that they have already made the investment in the most costly parts of the case. They will fit your products into a size and configuration that suits both you and your customers.
Why PFC's design team is your best choice
Over the last 40 years PFC has designed literally thousands of cases and case interiors for customers in hundreds of different markets. Intimate knowledge of case requirements, aesthetics and the double wall molding process allow us to quickly provide an efficient design that will require a minimum of space and cost. They use many design features that are not possible with other molding techniques to give you a package that complements, in fact becomes a part of, your product.
During the design of your packaging factors such as utility of the double wall process as a cushion, balance when carrying, exchangeable design features of our modular molds, non-stock PFC sizes and features they can incorporate from tooling on hand, utilizing the air space between the case walls and many other factors that they work with every day.
How the design process works
PFC's design process begins essentially the same way for foam inserts, custom molded interiors or completely custom packaging. Their sales representatives will discuss your project in detail. They need to know as much as possible about your products, how they are used and in what quantities to offer a cost effective package. Once they have your information in house they will provide a photographic layout and quote, generally within a few days. If possible they will communicate this by email. Once they have approval of the concept the actual process for your tooling will begin. For a step by step description of the tooling process check out the "Semi-Custom_Process" page on their web site.
Plastic Forming Company's Definition of Quality
There are many definitions of the term quality. According to one of these definitions, attainment of quality in products and services at competitive prices requires an emphasis on doing the right things (products and services that reflect target features based on customer needs) and doing the right things right (using efficient processes) all the time. PFC believes that the quality that comes out of a process is affected by the quality of what goes in and what happens at every step along the way. It follows that they must build quality into every step, process, and system to produce a quality product.
Keeping this in mind, PFC's quality checklist begins with the expert service of our highly trained sales staff and their extensive knowledge. From there PFC's Engineering Department contributes nothing but the industries best know-how and designs factoring in the customer's requirements and needs at every stage. Finally, their Production Department offers years of experience with an emphasis on low-cost, timely delivery, and consistent high-quality cases free of defects. Whether it's an initial product run, a reorder, or a stock case off the shelf, PFC's customers can expect to receive their product when they ask for it and fit for use.
---