Marine Equipment Weather-Resistant Carrying Cases
Product Announcement from Plastic Forming Company, Inc. (The)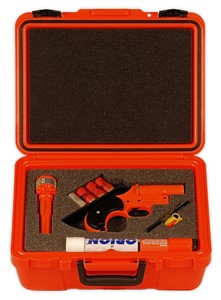 Made in America AllConditions™ weather-resistant cases are an excellent way to transport, store and protect handheld VHF and weather radios; GPS and other navigational tools and electronics; emergency alert flares, personal locator beacons and strobes; binoculars and night-vision; fishing reels, cameras, first-aid items, and more.
Their lightweight but rugged double-wall construction shakes off heavy impacts no matter how cold it is outside, and our proprietary gasket sealing system keeps your equipment clean and dry. AllConditions™ cases have recently been certified IP53 by a nationally accredited independent testing laboratory.
Made in America equipment protection: we do everything in-house - design, mold engineering, and manufacturing - and we do it here in the USA. We don't subcontract anything; we don't outsource anything to foreign manufacturers. That ensures that we can stay on top of every detail, and it keeps lead times to as little as 4-6 weeks.
It doesn't matter if your craft of choice is a 14 ft. kayak, a sloop-rigged sailboat, a classic mahogany runabout, or a 70 ft. commercial fishing vessel, one thing is for sure - you've got gear and you need to keep it clean and dry.

Play Marine Equipment Weather-Resistant Carrying Cases Video on YouTube
---