Pleora Joins Assoc. of High Tech. Distribution
Featured Product from Pleora Technologies Inc.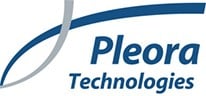 Pleora Technologies announced its membership with the Association of High Technology Distribution (AHTD) as the global supplier of machine learning and sensor interface solutions expands its relationship with automation solution providers and distributors to help drive further growth of the 'smart' Industry 4.0 market.