RuggedCONNECT™ Smart Video Switcher
Featured Product from Pleora Technologies Inc.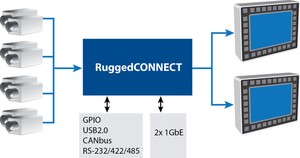 Scalable, flexible approach to real-time video sensor networking
Pleora Technologies, the world's leading supplier of high-performance video interfaces, today introduced a ruggedized sensor networking platform that helps manufacturers and system integrators reduce cognitive burden and increase mission-effectiveness for end-users while meeting interoperability and scalability demands in size, weight, power and cost (SWaP-C) sensitive real-time military imaging applications.
The company's networked sensor switching expertise has been designed into local situational awareness (LSA), C4ISR, remote controlled weapon stations (RCWS), driver vision enhancer (DVE), and panoramic surveillance applications, and is being evaluated for emergency service vehicle and railway systems.
"RuggedCONNECT leverages our low-latency networking expertise and user-focused design approach help increase intelligence, awareness, and safety while reducing cognitive burden for vehicle crew members," says Harry Page, president, Pleora Technologies. "Manufacturers can design standards-compliant vehicle platforms that are rapidly deployable, mission configurable, and cost-effective. Our fully scalable platform allows easy implementation of future capabilities that increase mission effectiveness with minimum integration effort."
Click here to view press release.
Learn more about key features, specs, applications, etc.
The RuggedCONNECT Smart Video Switcher is now available for trial with lead customers. To find out how to become a lead customer, or for more details, contact Pleora.