Ultra Ultra Low Jitter "J Series" Oscillators
Featured Product from Pletronics, Inc.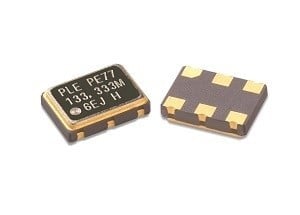 The Ultra Ultra Low Jitter "J" Series Oscillator family from Pletronics is ideal for use in Digital Communications infrastructure, 5g Head-End & Data, 100G-400G Optical Transport Networks, full speed GbE, PCI Express. This full line of high precision quartz crystal are available in 1.25MHz – 175MHz in CMOS logic and 25.0MHz -175MHz in differential output logic. Phase noise performance for the J series family is 100 femtoseconds from 12 kHz-20MHz at 156.25MHz reference frequency. Stability of +/-20ppm OTR -40to+85 available as well in this series. The J Series oscillators are available in 5070mm, 5032mm, 3225, 2520mm, 2016mm in an LCC ceramic package and are available in tape and reel or cut tape packaging.