Miniature Plastic Check Valves
Product Announcement from Pneuline Supply, Inc.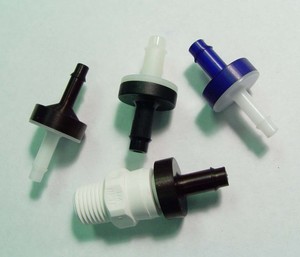 Pneuline Supply, Inc.'s miniature plastic check valves, MPV Series, are made for use in laboratories, concentrators, beds, and vacuum applications. The housing can be molded of Nylon, Polypropylene, PVDF, or Acetal optional is polycarbonate. Diaphragms are made from Fluorosilicone, Viton, Epdm, Silicone, food grade optional. Plastic check valves are sized for tubing of 1/8, 3/16, 1/4, 5/16 and 3/8 ID tubing. Threads of 10-32, 1/4-28 and pipe sizes of 1/8 NPT.
Custom configurations available.
---