6-Position Selector Valves
Product Announcement from Pneumadyne, Inc.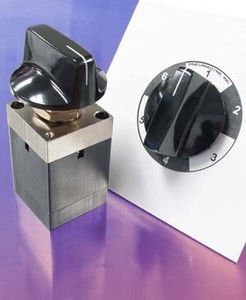 Selector valves allow the actuation of up to six individual circuits from a common input port. Pneumadyne manufactures two styles of valves to accommodate actuation requirements. The Standard Selector Valve directs flow through each output port as the knob is turned. The Shut-off Selector Valve requires the knob to be pushed-in and turned, blocking flow to the output ports until a position is selected. These 3-way valves exhaust to atmosphere upon selection of a new output port. A spring-loaded "wear compensating seat" retains a tight fit ensuring that the valve will not leak with wear.
The Pneumadyne Advantage
Flow rates of 6.7 and 8.8 scfm at 125 psi
Operating pressure is 0 to 125 psi
Anodized & electroless nickel plated for corrosion resistance
Detented knob
Panel mount
2D & 3D CAD drawings are available. Contact Pneumadyne for a quote today.
Pneumadyne, Inc. is an ISO 9001:2008 certified manufacturer of pneumatic components and pneumatic control systems. Designed and manufactured in the USA, our directional control valves, fittings, manifolds, air nozzles and custom products are relied upon for fluid control throughout a wide variety of industries.
---