Check Valves
Product Announcement from Pneumadyne, Inc.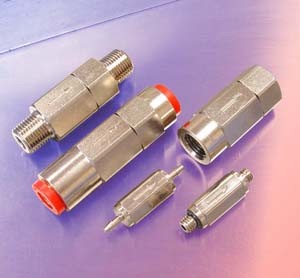 Check valves are extremely simple devices yet they serve an important purpose in many pneumatic circuits. Generally used in systems where back flow is not permitted, check valves allow free flow in one direction and block flow in the opposite direction. They can also be used as a bypass valve, allowing media around components such as needle valves which restrict flow in both directions.
To meet the needs of your application, Pneumadyne manufactures a variety of Check Valves with threaded, barbed and push-to-connect ports. Our durable valves feature cracking pressures of 0.1 and 0.5 psi to quickly allow flow through the output port.
The Pneumadyne Advantage
Flow rates range from 2.5 to 31.5 scfm at 125 psi
Operating pressure is 0 to 125 psi
Multiple porting options include 10-32 UNF, 1/8 NPT, barbs and push-in connections for plumbing convenience
Low cracking pressure
Electroless nickel plated for corrosion resistance
Compact size
Durable brass construction
2D & 3D CAD drawings are available. Contact Pneumadyne for a quote today.
Pneumadyne, Inc. is an ISO 9001:2008 certified manufacturer of pneumatic components and pneumatic control systems. Designed and manufactured in the USA, our directional control valves, fittings, manifolds, air nozzles and custom products are relied upon for fluid control throughout a wide variety of industries.
---