Control Valves
Product Announcement from Pneumadyne, Inc.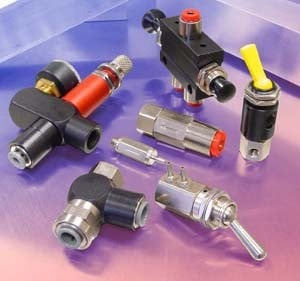 Control valves are a fundamental component of any pneumatic system. Selecting the right directional valves to control system pressure, direction of flow and rate of flow is crucial when designing fluid power circuitry. If the valve is too big for your application, you will be wasting air and money. If it's too small, the actuator will not function properly.
To ensure that your plumbing, flow and operating needs are met, Pneumadyne manufactures a wide selection of directional and circuit control valves. For plumbing convenience, our 2-Way, 3-Way and 4-Way valves feature threaded, barbed and push-to-connect ports. Flow rates for these valves range from 2.90 to 57 scfm at 125 psi to accommodate system requirements. In addition to a variety of porting options, our Shuttle Valves and Check Valves feature a low cracking pressure to quickly allow flow through the output port. Pneumadyne Quick Exhaust Valves are able to relieve 100 in3 of air in one to six seconds which increases the cycle speed of a cylinder. Finely threaded stems allow the gradual adjustment of Flow Controls and Needle Valves to match system requirements, while our Pressure Regulators are ideal for maintaining a preset downstream pressure.
Our complete line of miniature pneumatic valves offers a superior design constructed from high quality materials which results in an extremely long product life. Additional features include swivel ports for critical alignment, anodized or electroless nickel plated components for corrosion resistance and miniature size for limited space applications.
The Pneumadyne Advantage
Variety of porting options for plumbing convenience
Numerous configurations for added versatility
Flow rates range from 2.90 to 57 scfm at 125 psi
Poppet or spool designs
Operating pressures from 26" Hg to 150 psi
Miniature size is ideal for limited space applications
Colored nylon actuators for easy identification
Long product life
Plated for corrosion resistance
Rely on Pneumadyne for valves that will fit your system requirements and efficiently control the air flow throughout your pneumatic circuit.
2D & 3D CAD drawings are available. Contact Pneumadyne for a quote today.
Pneumadyne, Inc. is an ISO 9001:2008 certified manufacturer of pneumatic components and pneumatic control systems. Designed and manufactured in the USA, our directional control valves, fittings, manifolds, air nozzles and custom products are relied upon for fluid control throughout a wide variety of industries.
---