Latching Solenoid Valves
Product Announcement from Pneumadyne, Inc.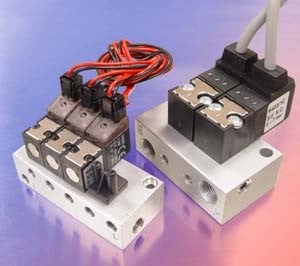 Pneumadyne's 10 mm & 15 mm Latching Solenoid Valves are ideal for applications where low power consumption is required or coil heating is unwanted. The latching feature eliminates the need for continuous power to maintain the position of these direct acting 2-Way and 3-Way valves. Fast response times allow for a momentary pulse to energize and de-energize the valves.
The 15 mm valves feature a 3-wire system, therefore, a relay is not required to reverse polarity. Applying a momentary electrical signal energizes (latches) the valve. An internal magnet holds the valve in the energized (open) position when the power supply is removed. Applying a second electrical signal de-energizes (unlatches) and exhausts the valve to atmosphere. The 10 mm valves feature a 2-wire system.
Features
2-way & 3-way normally closed function
Fast response time
12 & 24V DC coils
Miniature size is ideal for limited space applications
Momenary pulse required to energize & de-energize
Operating Pressure: 0 to 150 psi
Flow Rate: 3.38 scfm @ 150 psi (15 mm normally closed only)
Pneumadyne's Latching Solenoid Valves are recommended for use with our standard or custom designed solenoid manifolds & single bases. For mounting convenience, single to 12-station manifolds are available with 10-32 (F) or M5 (F) threads.
2D & 3D CAD drawings available. Contact Pneumadyne for a quote today.
Pneumadyne, Inc. is an ISO 9001:2008 certified manufacturer of pneumtic components and pneumatic control systems. Designed and manufactured in the USA, our directional control valves, fittings, manifolds, air nozzles and custom products are relied upon for fluid control throughout a wide variety of industries.
---