Pneu-Edge® Fittings
Product Announcement from Pneumadyne, Inc.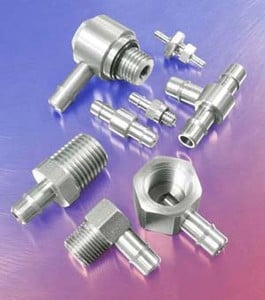 Pneu-Edge® Fittings feature a consistently sharp, single-barb design which provides a tighter grip and seal than standard multiple barbs. These precision machined fittings ensure permanent polyurethane tubing installation without the need for clamps. Straight connectors, tees, elbows, crosses and couplings are available in a wide variety of sizes and materials to accommodate numerous fluid handling circuits.
Pneu-Edge Features
Twelve barb sizes are available to accommodate a variety of tubing requirements

Ten thread sizes are available ranging from 10-32 UNF, ¼-28 UNF, and 1/16 NPT to 1/2 NPT, including metric M3, M5 and M6

Pneumadyne's captured o-ring design provides a superior seal ensuring a leak resistant fitting

A smaller shank behind the barb allows Polyurethane tubing to relax, providing a tighter grip and seal

A smoother tubing approach angle eases tubing installation

Solderless joint technology eliminates solder voids, potential leaks and heat discoloration or distortion of materials. Components are threaded together and sealed with NSF approved Loctite® sealant to eliminate pull-out potential and ensure straight barb alignment

Larger thru-hole for a maximized flow path

Swiss precision machining ensures consistently sharp barbs for more permanent tubing installation
2D & 3D CAD drawings available. Contact Pneumadyne for a quote today.
Pneumadyne, Inc. is an ISO 9001:2008 certified manufacturer of pneumatic components and pneumatic control systems. Designed and manufactured in the USA, our directional control valves, fittings, manifolds, air nozzles and custom products are relied upon for fluid control throughout a wide variety of industries.
---