Shuttle Valves
Product Announcement from Pneumadyne, Inc.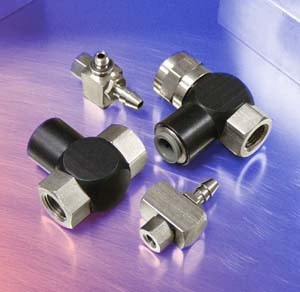 Shuttle Valves, also known as "OR" valves, automatically select the higher of two pressures allowing flow from one input to the output port. For plumbing convenience, Pneumadyne manufactures a wide variety of Shuttle Valves with threaded, barbed and push-to-connect ports. These durable valves also feature a low cracking pressure, less than 1 psi, to quickly allow flow to the output port.
The Pneumadyne Advantage
Flow rates of 11.4 and 33 scfm at 125 psi
Operating pressure is 0 to 125 psi
Anodized and electroless nickel plated for corrosion resistance
Low cracking pressure, less than 1 psi
Miniature size is ideal for limited space applications
Multiple porting options for plumbing convenience
2D & 3D CAD drawings are available. Contact Pneumadyne for a quote today.
Pneumadyne, Inc. is an ISO 9001:2008 certified manufacturer of pneumatic components and pneumatic control systems. Designed and manufactured in the USA, our directional control valves, fittings, manifolds, air nozzles and custom products are relied upon for fluid control throughout a wide variety of industries.
---