Solenoid Operated Valves
Product Announcement from Pneumadyne, Inc.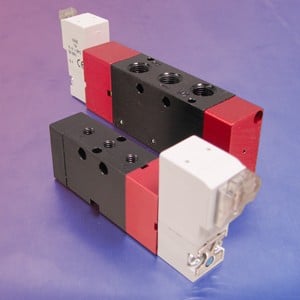 A very common method of operating directional valves is with pneumatic solenoid valves. Recommended for use in systems requiring higher flow rates, a direct-acting solenoid is mounted on a larger pneumatic valve and acts as a pilot operator. Upon actuation of the solenoid, pilot pressure shifts the larger valve directing flow from the input port through the output port.
To ensure that the plumbing and flow rate requirements of a pneumatic control system can be met, Pneumadyne manufactures two series of Solenoid Operated Valves.
"20" Series
Our "20" Series valves feature 10-32 (F) ports and a flow rate of 12.1 scfm at 125 psi. For installation flexibility, these high flow 3-way and 4-way valves are available with a variety of 1 watt 15 mm solenoid operators. An exclusive plating process, PneuTef™, ensures a long product life and enables the valves to be used with lubricated and non-lubricated air. Two valve body styles provided mounting versatility.
"22" Series
Pneumadyne's "22" Series offers 3- way and 4-way configurations with 1/8 NPT (F) ports and flow rates of 35 – 40 scfm at 125 psi. In addition to the standard 2-Position 4-way, the "22" Series also features 3-Position 4-way valves with Closed or Exhaust centers to satisfy system requirements. For installation flexibility, single or double solenoid operators (1 watt 15 mm) are available to shift the valve. Unique to this series of valves, our Latching Solenoid Valves can replace two solenoid valves in a 4-way, 2-Position "double solenoid" configuration; an energy and space saving option. Precision machining and our exclusive PneuTef™ plating process ensure a long product life and enable the valves to be used with lubricated or non-lubricated air.
Cylinder Control Valves
Pneumadyne's Solenoid Operated Cylinder Control Valves are ideal for applications requiring controlled movement of single-acting spring return cylinders. Designed for use with our 15 mm Solenoid Valves, these precision machined valves are available in five configurations to accommodate cylinder extension and retraction requirements.
Manifolds
Precision machined aluminum manifolds are a cost effective method of mounting multiple "20" or "22" Series valves. Choose from two to 10-stations to fit application requirements. All manifolds are clear anodized for corrosion resistance.
Pneumadyne's versatile 3-way and 4-way Solenoid Operated Valves are an ideal choice for achieving the higher flow rate requirements of your pneumatic control system.
---