Solenoid Valves
Product Announcement from Pneumadyne, Inc.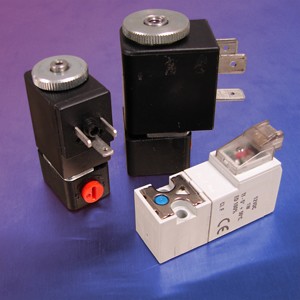 Solenoid Valves are an efficient method of converting electrical signals into pneumatic functions. Applying electricity to the solenoid quickly directs air through the valve and into the circuit.
Pneumadyne's direct acting solenoid valves are a cost effective, space saving solution for the use of single or multiple valves. Our versatile offering features a variety of voltage, wattage, connector and mounting options to ease valve selection and installation. Fast response times and high flow rates make our valves suitable for numerous applications.
10 mm Valves
These miniature solenoid valves have an overall length of 1.08" and height of .52" making them the ideal choice for applications where space is limited. Our 2-Way and 3-Way valves feature three connector options, leads and plug-in connectors, which simplify installation. This versatile valve offering includes 12 & 24 Volt DC and a low watt 24 Volt DC.
15 mm Valves
Our 15 mm direct acting solenoid valves feature a variety of connector, electrical and mounting options to accommodate a variety of system requirements. 2-way and 3-way valves are offered with 12 Volt DC, 24 Volt DC and 110 Volt AC coils. Three orifice diameters, 0.8 mm, 1.1 mm & 1.6 mm, are also available to fit flow rates to your application specifications.
System 6
Pneumadyne's System 6 solenoid valves feature a wide variety of voltage options including a low watt version (0.8 watt) which is ideal for low power control circuits. These 2-Way & 3-Way Normally Closed valves are available with Spade and Flying Leads Connectors for fast electrical connection.
System 8
System 8 solenoid valves feature a larger orifice for applications requiring higher flow rates, 6.2 to 9.0 scfm at 125 psi. These 2-Way & 3-Way valves are offered with a Spade Connector and 12 Volt DC, 24 Volt DC, 110 Volt AC and 220 Volt AC coils to accommodate your fluid handling requirements.
Latching Solenoid Valves
Latching solenoid valves are recommended for applications where power is limited or coil heating is unwanted; continuous power is not required to maintain the energized position. The 15 mm version features a 3-wire system, therefore, a relay is not required to reverse polarity. Fast response times allow for a momentary pulse to energize and de-energize the valves.
Manifolds & Bases
Pneumadyne manifolds are a cost effective solution for mounting multiple solenoid valves. Single to 12-station manifolds are available with a 10-32 (F), M5 (F), 1/8 NPT (F) or ¼ NPT (F) threads for plumbing convenience. All bases and manifolds are clear anodized for corrosion resistance.
When used in conjunction with our bases and manifolds, Pneumadyne solenoid valves are the ideal interface between your pneumatic and electrical systems.
---