A solution for hidden corrosion problems
Featured Product from Polyguard Products, Inc.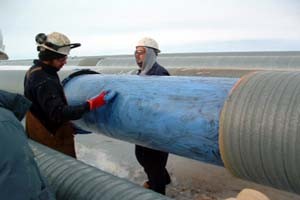 A solution for many hidden corrosion problems
Thanks for visiting the ReactiveGel website. If you have problems with Corrosion Under Insulation (CUI), in crevices, or otherwise hidden corrosion, you will find a solution here.
ReactiveGel is different from anything you've seen:
To understand this unique material, which is protected by multiple patents internationally, perhaps the first thing to know is that it is totally different. ReactiveGel is applied as a gel - and instead of curing or hardening, it remains in gel form. Within a short time, chemical elements in the gel react with elements in the steel surface. This reaction forms an ultra-thin glasslike mineral surface. This surface, along with pH adjusting chemistry in the gel, is what protects the steel underneath from corrosion. See a graphic explanation by clicking here (How It Works)
ReactiveGel works best on corrosion you can't see:
ReactiveGel got its start by solving critical corrosion problems:
The U.S. Navy found its operations handicapped by watertight doors frozen by hidden corrosion, and by critical steel cables weakened by crevice corrosion.
Oil and gas producers north of the Arctic Circle became concerned about potential environmentally damaging spills caused by corrosion in Annular Well Casings and under insulation.
Food Manufacturers, who use refrigerated processing in their operations, worried about process shutdowns and leaks from corroded Ammonia Refrigeration lines. With these lines, leaks can be life threatening, environmentally damaging, and extremely costly.
What do I do next?
If after reviewing our website, particularly the applications area, you feel that one of your corrosion problems can be helped by one of our ReactiveGel products, here are several things you could do:
1. Contact us with questions by email at info@polyguardproducts.com.
2. Call us at (1) 214.515.5000.