Alumaguard for Cold Temperature Asphalt Installs
Product Announcement from Polyguard Products, Inc.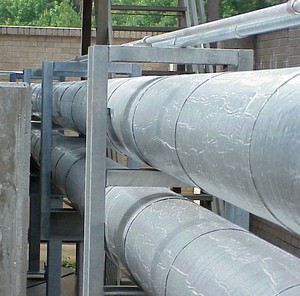 Alumaguard® All-Weather weather-proofing cladding from Polyguard Products is the only flexible insulation cladding available in the market which combines the self-healing characteristics of rubberized asphalt with the ease of application and cold weather performance of acrylic adhesive-based products.
· Proven: Uses the same outer layer and rubberized asphalt compound as the original Alumaguard membrane which has been used successfully in the market for 12 years as a lower cost alternative to standard metal and mastic/fab applications.
· True Zero Perm Performance
· Self-Healing: rubberized bituminous membrane seals small cuts and punctures; aluminum is UV stable.
· Acrylic adhesive allows installation down to 10ºF.
· No pinning or activator required
· Excellent emissivity
· Can be used year round
· Mold and mildew resistant
Alumaguard All-Weather is a composite membrane consisting of a multi-ply embossed UV-resistant aluminum foil/polymer laminate to which is applied a layer of rubberized asphalt specially formulated for use on insulated duct and piping applications. A metalized polyester film coated with a high quality low temperature acrylic adhesive is then applied to the rubberized asphalt. A heavy duty release liner gives Alumaguard All-Weather its peel and stick functionality.
Alumaguard® All-Weather is designed to be used outdoors to weather-proof exterior insulated ductwork, piping or other insulated tanks, vessels and equipment. Alumaguard All-Weather resists moisture, air and vapor intrusion.
Alumaguard® All-Weather Technical Properties:
Product Thickness (w/o liner) 35-38 mils
Product Weight 0.2 lbs/sf
Water Vapor Transmission 0.00
Permeance (US Perms) 0.00
Peel Adhesion >16 lbs/in
Elongation at Break 164%
Tensile Strength 50 lb/in
Puncture Resistance (Film Only) 150 PSI
Mold Resistance Pass
Upper Temperature Limit 150ºF
Emissivity .030
---