Help prevent corrosion from occurring
Featured Product from Polyguard Products, Inc.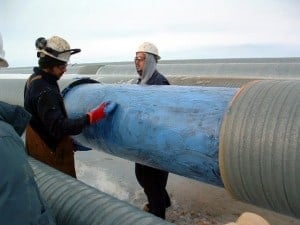 In the photo, applicators are installing RG-2400 AK gel, a formulation which can withstand application to pipe with surface temperature up to 250° F (121° C). This formulation can be applied by brush or glove. Fabric helps to keep the gel on the area where it was applied. The gel will not harden or set up over time.
RG-2400 AK is a breakthrough for corrosion control and prevention on piping systems, tanks and vessels under insulation. It is a non-drying compound easily brush/spray applied to pipes, fittings, valves, tanks and vessels. This version of RG is designed to be used on in-service hot surfaces.
Features, Benefits & Literature