IRO Impact Resistand Outer Wrap
Featured Product from Polyguard Products, Inc.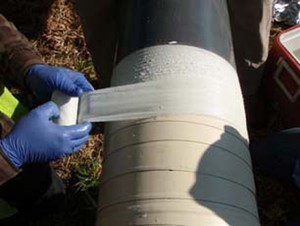 IRO can be used in may instances, the most common is over corrosion coatings when pulling a pipe through a bore or road crossing culvert. It can also be used over jacketing on piping systems in areas where pipes commonly get walked on or crawled over crossing a roof.
For un-insulated lines which RG-2400 is installed, a paintable hard surface may be desired. Install RG-2400, install GeoWrap, then install IRO over the surface, activate, and let harden. The IRO can then be painted to match any color coding system in use at the facility.
IRO is available in different lengths, and can be directly buried.