Need Corrosion Control?
Featured Product from Polyguard Products, Inc.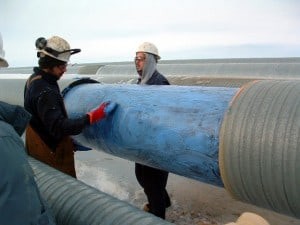 The CUI problem was one of the first to be tackled by the team who developed RG-2400 at Polyguard. The reason??? Corrosion Under Insulation in food processing, beverage, and other industries which use ammonia refrigeration systems have serious safety, environmental, and business interruption concerns when Corroded Tanks and Vessels begin showing leaks in the cooling systems. And oil and gas companies operating above the Arctic Circle have serious concerns about what a corrosion caused leak can do to the sensitive environment.
If you have a CUI problem, perhaps the first thing you want to look at is the extensive testing which has been done in this application. (Click here for Testing)