"Next Gen" self-healing vapor barrier membranes
Featured Product from Polyguard Products, Inc.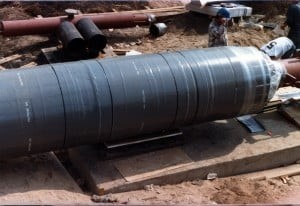 Insulrap™ Family of Products:
Insulrap™ 30-NG products: is the "Next Generation" of self-healing vapor barrier membranes used as a moisture and vapor retarder under mechanical jacketing on insulated piping systems used in ammonia refrigeration, oil and gas, LNG, cryogenic and chemical processing applications. I-30-NG products are comprised of a white, 30 mil thick, vapor barrier composite membrane consisting of a tough polymer/foil laminate film coated with a layer of rubberized-asphalt specially formulated for use in these applications. Our "peel and stick" product consists of a built-in disposable silicone-coated release liner to make application quick and easy. I-30-NG offers exceptional longitudinal stability, self-healing, and zero perms making it the obvious choice of below ambient systems.
Insulrap™ 30-NG offers a smooth finish that will stretch and flex to accommodate movement of the substrate.
Insulrap™ 30-SJ NG offers fiberglass scrim reinforcement embedded in the laminate using a process that minimizes the scrim profile providing extra strength, durability and enhanced lap adhesion
Click here to see the entire Insulrap™ Family of Products