Pipeline coating that operates up to 190 degrees
Featured Product from Polyguard Products, Inc.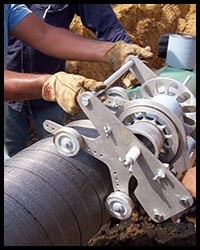 RD-6 is a non-shielding, anti-corrosion coating that has been used on pipelines throughout the world for over 33 years. Launching RD-6 HT allows pipeline owners to apply this innovative product on pipelines that operate up to 190 degrees Fahrenheit (88 degrees Celsius).

"This innovation gives pipeline owners and their contractors more options when it comes to coating higher temperature pipelines," Chic Hughes, Vice President of Pipeline Products for Polyguard, said. "In addition, this product has all of the physical features, including non-shielding properties, that RD-6 has provided for over three decades."

RD-6 HT came about as asset owners communicated the desire to use RD-6 on pipelines that operate at temperatures higher than 145 degrees Fahrenheit. Polyguard's Research and Development took on that challenge two years ago, and have recently completed third party testing that shows the product meets all the standards they are used to seeing with RD-6. The product has already been specified and successfully applied by midstream pipeline owners throughout the country and Canada.

RD-6 was originally developed by Polyguard's Pipeline Division in the 1980s in response to the growing concerns related to the shielding of cathodic protection currents which serve as a secondary corrosion protection system on pipelines. Since that time, tens of thousands of miles of pipelines have been coated with RD-6 with no known issues.