Prevent corrosion & stop corrosion from advancing
Featured Product from Polyguard Products, Inc.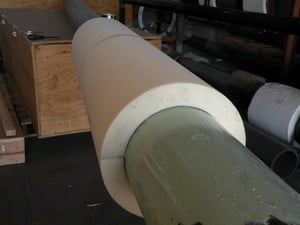 RG-CHW is a surface conversion compound utilizing mineralization technology, or the "science of Minetics." RG-CHW is gel compound which replaces the corrosion process by growing a mineral formation on and into the metal surface 50-200 angstroms thick. As time passes, the mineral layer on the substrate increases in thickness. RG-CHW is not "new" technology; it is new to the chilled water industry and is a breakthrough for controlling corrosion under insulation (CUI). RG-CHW is a non-drying gel compound that is easily applied to pipes, fittings, valves, tanks and vessels. RG-CHW's non-skinning and non-sag properties make it a permanent solution for CUI on chilled water systems.
RG-CHW prevents corrosion and stops existing corrosion from advancing. It requires minimal surface preparation on corroded surfaces (SSPC-SP-2, Hand Tool Cleaning), which drastically reduces the overall cost of a system remediation without pipe replacement. (Integrity testing is recommended on corroded pipe)
Installation thicknesses of 25-30 MILS allows the unique formulation of the gel to heal a breach (mechanical damage) of the mineral barrier, and the RG-CHW® formula is so unique, that even if the vapor barrier is breached allowing some moisture into the system, the RG-CHW will buffer the moisture that migrates through the gel to an elevated pH.
RG-CHW is typically applied on the pipe using PVC chemical gloves and a patented AccuTrowel tool. The opacity and color of the product (light green) allows for easy site inspection of an installation. RG-Cleaner is also available from Polyguard; this cleaner is specifically formulated to clean tools, equipment, and hands without harmful chemicals.