STYROFOAM™ XPS PIB
Featured Product from Polyguard Products, Inc.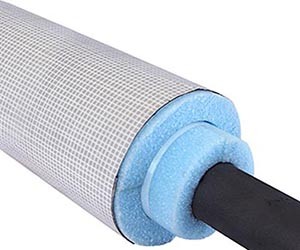 Product Name: Dow® STYROFOAM™ PIB
Manufacturer: Dow Chemical Midland, MI Sold through Polyguard® Products, Ennis,TX
Product Description: Dow STYROFOAM™ XPS PIB is a closed-cell thermal plastic, void free, seamless foam insulation billet designed for mechanical fabrication design and manufacturing.
Dimensions: 3 standard sizes
7"x14"x108"
8"x16"x108"
10"x20"x108"
Installation: STYROFOAM™ PIB is designed specifically for ease of fabrication. The billets are seamless and cell structure is designed for both shop fabrication and field adjustment. STYROFOAM™ can easily be cut and formed in the field with an insulation knife. Specialty Valves, fittings, and many other technical components should be manufactured by a fabricator. Polyguard Products has developed detailed installation guidelines to assist design and installation of STYROFOAM™ PIB.
Availability: STYROFOAM™ XPS PIB products are sold through Polyguard to an extensive fabricator network. For more information call Polyguard at 214-515-5000.
Technical Services: Polyguard Products can provide technical information and services pertaining to thickness calculations, design criteria & guidelines, installation recommendations, recommended system uses.
Links: