What is the Best Basement Wall Sealer?
Featured Product from Polyguard Products, Inc.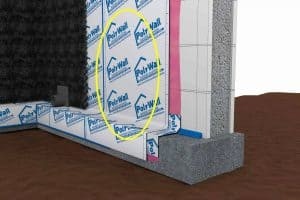 The best basement wall sealer will effectively stop moisture infiltration through a concrete foundation to prevent the growth of structurally damaging and unhealthy mold, along with corrosion.
The American Society of Home Inspectors reports moisture in 60 percent of U.S. houses, with 38 percent running the risk of basement mold. Moreover, water intrusion causes 70 percent of construction litigation. However, contractors and homeowners can minimize these problems by sufficiently sealing their basement walls.
How Moisture Infiltrates Concrete
Concrete contains many tiny pores, capillary tracts, and hairline cracks that will absorb water if not treated with a quality waterproofing concrete sealer. Unfortunately, the moisture can soak into carpets and finished walls, and damage all the contents of a home. In addition, concrete basement foundations run a high risk of flooding, mildew and mold growth, corrosion, and dangerous radon gas passage.
Fortunately, PolyWall®'s basement sealing solutions (a division of Polyguard) provides superior basement sealer products that protect against air and moisture infiltrations, to significantly contribute to a home's long-term durability, health, and safety.