Anti-Static Label Materials
Product Announcement from Polyonics, Inc.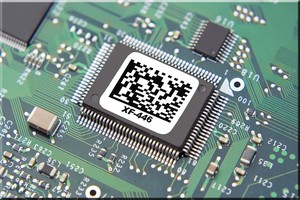 To learn more about the unique features of our materials or to request samples, contact a technical expert at info@polyonics.com or call (603)352-1415
Polyonics announces the release of TRIBOGARD® anti-static label materials; XF-781 and XF-782 polyimide.
A possible root cause for electronic device failure is an electrostatic discharge (ESD) event at the board level. Using anti-static labels can be an effective corrective action step to help prevent static discharge events.
ESD damage affects production yield, product reliability and profitability in the electronics market. As electronic devices become smaller and more complex the more sensitive to ESD they become. TRIBOGARD® label materials are designed to address two major ESD concerns that standard labels can present. First, they eliminate the charge generated when the label is removed from the liner that can discharge and destroy sensitive components during application. Second, after the label has been applied and during the label life, the TRIBOGARD® label has been designed to prevent significant charge build up on the label surface which can result in a static discharge event.
Polyonics provides label materials globally for many electronics manufacturers, built around its THERMOGARD® "harsh environment platform". TRIBOGARD®, a new generation of barcode labels with enhanced anti-static technologies, not only enables you real-time information for WIP tracking, but also provides you with anti-static features to protect boards and their components from ESD events during label application and label life.
Polyonics' TRIBOGARD® label materials are designed to withstand PC board manufacturing processes and temperatures up to 1,000°F (538°C) for the white and up to 550°F (287°C) for the colored ESD labels. All materials also conform to REACH, RoHS, and HALOGEN FREE requirements of the electronics industry.
Polyonics also offers the XF-446 which is a 2 mil white, semi-gloss, thermal transfer static dissipative Polyester material which is a cost effective solution for applications where the temperature does that exceed 400°F (204°C). Visit us at www.polyonics.com to learn more about anti-static label materials.
Polyonics label materials listed in this section are considered static dissipative as defined by EIA-625, "Requirements for Handling Electrostatic-Discharge Sensitive (ESDS) Devices and EIA-541, "Packaging Material Standards for ESD Sensitive Items." The test method used was EOS/ESD S11.11, "Surface Resistance Measurement of Static dissipative planes":
According to Electronic Industry Association (EIA), surface resistance classifications are:
less than 104 ohms is "Conductive"
greater than or equal to 104 and less than or equal to 1011 ohms is "Static dissipative"
greater than 1011 ohms is "Insulative"
Features
Virtually eliminates static build up
Safe to use on static sensitive electronics
Non-conductive adhesive
Excellent chemical resistance
Low minimum order quantity and lead time
HALOGEN free- REACH & RoHS compliant
Benefits
Eliminates static discharge events at the board level
Reduce product cost related to static damage
Prevents electrical shorts
Resists harsh chemicals (e.g.m Ensolv® & Vigon®)
Supports lean manufacturing
Environmentally friendly materials
If you have questions regarding our products send an email to info@polyonics.com and someone from our technical department will be able to assist you.
---