Polyimide Film for Flexible Electronic Devices
Product Announcement from Polyonics, Inc.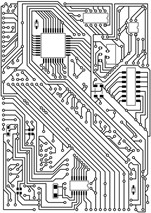 Polyimide films are the preferred substrates for those applications that require temperature resistance, dimensional stability and resistance to harsh environments.
Polyonics is offering polyimide films that have been enhanced to have greater ink receptivity. These coated polyimide films have been evaluated by several of the leading ink suppliers in the printed electronics market and confirmed good print quality and adhesion.
These unique, printable coatings are highly durable and offer good temperature, abrasion, and chemical resistance. These coatings are based on designs that have been used in PCB maufacturing environments and survive exposure to surface mount fluxes, washes and temperatures.
In addition, Polyonics can provide additional properties to polyimide film such as lower surface resistivity, flame retardants, opacity, static dissipation and color to these films.
To learn more about these unique polyimide substrates for printed electronics applications, call our technical experts at (603)352-1415 or email us at info@polyonics.com
Performance Benefits
· Printable
· Dimensional Stability
· Temperature Resistance
· Chemical Resistance
· Flame Retardant
· Static Dissipative
· Abrasion Resistance
· Multiple Print Capabilities
· REACH & RoHS Compliant
· Halogen Free
To learn more about these unique polyimide substrates for printed electronics applications, call our technical experts at (603)352-1415 or email us at info@polyonics.com
---