The Most Efficient Glass Dewars in the World!
Product Announcement from Pope Scientific, Inc.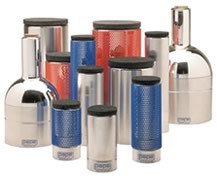 Pope Lab Grade Dewars are rated the most efficient glass Dewars in the World! This superior ranking is due to rigid quality controls in manufacture and a number of outstanding design and manufacturing features.
• Efficiency assured by rigid bakeout and evacuation control (evacuated to 10-5 torr or better).
• Evacuation tip completely shielded for increased protection.
• Weighted bases on all models for stability
• Optional full length metal housing on most models for added protection
• No pads between walls on cylindrical Dewars eliminating this heat transfer potential
• Supplied stopper tops off Dewars to minimize evaporation

The protective aluminum bases on both styles extend the full height of the Dewars. Note that protected vacuum tip-off tubulations are offset to the side to minimize space between the Dewar bottoms and magnetic stirrers. The hemispherical line has been expanded to provide additional Dewars to fit larger flask sizes.
Dewar Use
• Manufactured for service of liquid nitrogen
• Standard lab izes for benchtop use
• Fully silvered borosilicate glass
• Aluminum base with sealed evacuated tip
• For optimum results temper the Dewar per instructions included
Complete Dewar Product Line
Low Form Shallow open top Dewars in both Hemispherical and Cylindrical configurations are available in popular sizes to match standard flask sizes. Fully silvered glass Dewars are fully based with tip-offs off center for use with stirrers.
Lab Grade Line encompasses a full range of sizes of fully silvered, glass double walled evaucated flasks. The wide mouth cylindrical Dewar is available with a choice of either protective mesh or extended aluminum housing and also the popular narrow mouth spherical configuration..Lab Grade Dewars for benchtop use come with polyethylene lids
Handled Lab Grade Dewar offers a complete Lab Grade Dewar at an affordable price. The most popular wide mouth cylindrical Dewars are manufactured with a full extended aluminum base, full exposed lip and attached handle to facilitate portability, safety and convenience.
To further improve the efficiency of the Narrow Mouth Dewar, caddies can be purchased separately. To extend the use of your Dewar, additional stoppers to replace lost or worn stoppers are available for purchase.

ADDITIONAL SIZES/CUSTOM MANUFACTURED DEWARS

Additional sizes are available in a premium line of Dewars, solid silvered, strip silvered or unsilvered, with or without bases. Capacities from 100 ml and up are available in either Spherical Narrow Mouth Dewars or Cylindrical Wide Mouth Dewars. Special shapes or customized Dewars made to your specific requirements are also available. Please contact us for more information and quotation.

DEWAR SYSTEMS FOR LOW TEMPERATURE RESEARCH

Pope Scientific also manufactures sophisticated all-glass Dewar systems for low temperature research in the liquid helium range. Please contact us for the "Equipment for Cryogenic Research Catalog" and a quotation.
For more than half a century, Pope Scientific Inc. has been at the forefront of manufacturing chemical processing equipment, engineered systems and laboratory apparatus for science and industry. Today Pope is internationally known - with specialized technical expertise in design and manufacturing of distillation processing equipment, as well as toll processing services. And Pope Dewars have been in labs forever.
Products
Wiped Film (Short Path) Stills & Evaporators
Fractional Distillation Systems
Hybrid Wiped Film / Fractional Stills
Portable Pressure Vessels & Vessel Systems
Processing & Liquid Handling Systems
Nutsche Filters / Dryers
Mixers, Stirrers, & Agitators
Dewars
Custom Glassware
---